- Bookstore -

(click pictures to view available formats)
Bad Apples Halloween Horror (3 Book Series)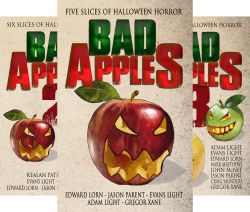 Thousands of Vintage Horror Books for Sale
ARBOREATUM - A NOVELLA OF HORROR, by Evans Light
Horror on the lonesome plains!

When a band of westward pioneers - lost, starving, and desperate - stumbles upon an unlikely oasis in the middle of a barren prairie, Micah wonders if his family has finally caught a lucky break...or does this new Garden of Eden hide a forgotten terror behind a veil of earthly delights?

ARBOREATUM is a novella of horror, young lust and delusions of grandeur, a unique and thrilling vision by new master of modern horror, Evans Light.
Buy it now on Amazon (eBook and Audiobook):
SCREAMSCAPES: Tales of Terror
eBook options
With beautiful formatting and fully-active contents, this is the definitive electronic version to own for your Nook, Kindle, iPad, iPhone, Kobo, Sony, Android or other e-reader.

SCREAMSCAPES eBook edition now available from iBooks and these fine retailers:
Amazon:

Barnes & Noble:

Google Play Store:
http://bit.ly/2w6zmi2

Smashwords Bookstore:
http://bit.ly/2wZDuPG

TOES UP: A collection of unforgettable horror by Adam Light

Set your expectations aside and run screaming down dark corridors of inescapable terror.

- A waitress in Slidell, Louisiana is about to meet Jack, a truck driver hell bent on pleasing the goddess in TAKEN.

- A diabetic man who neglects his health pays for it in truly twisted fashion in VENGEANCE BY THE FOOT.

- Greg is having a really bad day at work, and can't find his shoe or his mustard in the spine-tingling GONE.

- Winning the lottery isn't quite all it's cracked up to be for Gordan in WAY OUT OF HERE.

- Survivors of the apocalypse find an invitation to terror waiting on their doorstep in THE CONTINUANCE AGENCY.

Includes SERVING THE SPIRITS, a thrilling novella available for the very first time in this collection!

These are the dark, forbidding realms that exist at the edge of sanity. No one is safe. In the end, we all leave TOES UP.
Buy the paperback: http://amzn.to/2eUhGuQ
Buy the eBook: http://amzn.to/2xjmy7i
WAY OUT OF HERE, by Adam Light
Meet Gordon Delanolan. Just call him Nolan, everyone else does. Nolan is bored with life and in dire need of adventure. The only problem is that he has done everything, and there doesn't seem to be anything else left to add spice to his existence.

One night Nolan is shocked and terrified to hear a disembodied voice coming from his navel. Reality, he finds, maybe much more tenuous than he at first believed.

Is he going insane, or has he finally found a way out of his jaded existence after all.
Buy it now on Amazon:
CRAWLSPACE, by Evans Light
FREE AMAZON eBOOK!
Fooling around on your wife can be hazardous to your health. Jusk ask Tom.

He's a man with a lot to juggle: a frustrated wife, a secret new girlfriend, and the unpleasant task of trying to keep his deteriorating vintage farmhouse from falling down around him.

Now with his wife out of town for the week, Tom is eager to get busy under the covers with his beautiful new lover - but first there's something he has to finish up...in the CRAWLSPACE.
FREE DOWNLOAD from Amazon: