CORPUS PRESS
NEWS & EVENTS

Now available for digital pre-order.
New horror anthology featuring Josh Malerman (Bird Box) and many more.
In Darkness, Delight: Masters of Midnight is now available for digital pre-order. Purchase your copy today and the book will be automatically delivered to your Kindle device on May 6, 2019:
Worldwide Multi-platform Link:
 https://books2read.com/Masters-of-Midnight 
In Darkness, Delight is an original anthology series revealing the many facets of modern horror— shocking and quiet, pulp and literary, cold-hearted and heart-felt, weird tales of spiraling madness alongside full-throttle thrillers. Open these pages and unleash all-new terrors that consume from without and within.
Midnight is here.
It's now time to find . . . In Darkness, Delight.
Featuring:
Josh Malerman: One Thousand Words on a Tombstone - Delores Ray
William Meikle: Refuge
Jason Parent: Violet
Ryan C. Thomas: Who Are You?
Mark Matthews: Tattooed All in Black
Evans Light: One Million Hits
Lisa Lepovetsky: Kruze Nite
Israel Finn: The Pipe
Patrick Lacey: In the Ground
John McNee: Dogsh*t Gauntlet
Michael Bray: Letters
Monique Youzwa: Rules of Leap Year
Billy Chizmar: Mirrors
Espi Kvlt: Pulsate
Paul Michaels (Paul M. Feeney): Angel Wings
Andrew Lennon: Run Rabbit Run
Joanna Koch: Every Lucky Penny is Another Drop of Blood
Doorbells at Dusk: Halloween Stories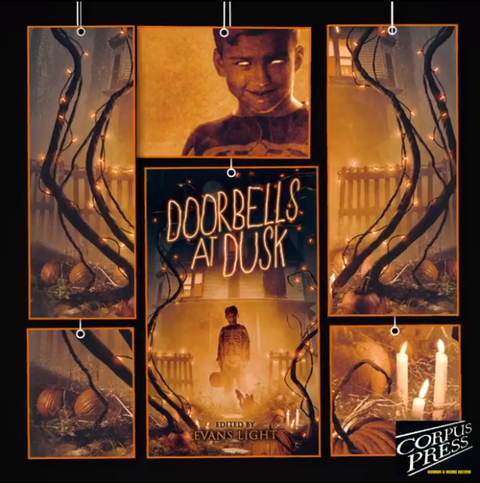 Doorbells at Dusk is a brand-new collection of short stories from both modern masters and rising stars of dark fiction, covering a gamut of horror, literary fiction and suspense that is sure to thrill both horror aficionados and casual readers alike.
Authors include: Josh Malerman, Lisa Lepovetsky, Chad Lutzke, Amber Fallon, Curtis M. Lawson, Sean Eads, Joshua Viola, Ian Welke, Charles Gramlich, Joanna Koch and Thomas Vaughn, along with contributions from Evans Light, Adam Light, Gregor Xane and Jason Parent.
Synopsis:
Halloween has always gone hand-in-hand with horror. The holiday gives many children their first taste of terror, the discovery and overcoming of fears. For those who find they love a good scare, that first taste can grow into a voracious appetite.
If that describes you, then you've come to the right place. Here you'll find the thrills you crave, packed into a collection of stories that are pure Halloween.
Carve your pumpkins and turn on the porch light, the night of frights begins with the sound of…Doorbells at Dusk.
Doorbells at Dusk is available now in paperback and e-book.
Worldwide Retailer Links for Doorbells at Dusk
Follow Corpus Press for the latest updates:
- NOW AVAILABLE -

BAD APPLES: THE COMPLETE COLLECTION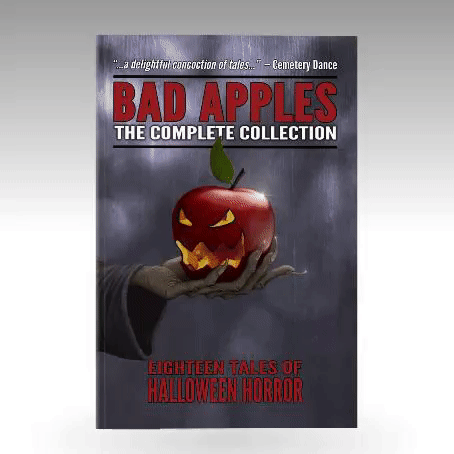 "...enjoyable horrific Halloween tales with the odd slice of humor neatly wrapped up amongst the violence and mayhem."
— SCREAM Horror Magazine
US: https://tinyurl.com/CompleteCollectionUSA
UK: https://tinyurl.com/CompleteCollectionUK
CA: https://tinyurl.com/CompleteCollectionCanada
Over 700 pages of Halloween novellas and short stories by: Kealan Patrick Burke, Evans Light, Adam Light, Edward Lorn, John McNee, Mark Matthews, Jason Parent, Craig Saunders and Gregor Xane.
"Brutal, humorous and utterly terrifying."
—Allan Leverone, New York Times and USA Today bestselling author
"It gets bigger and better every year...an essential Halloween read."
— Confessions of a Reviewer
(paperback exclusive)
Meet Corpus Press authors Jason Parent and Evans Light at Mad Monster Carolina this February 16-18, in Charlotte, NC.

We'll have an exciting limited edition exclusive at the Corpus Press booth this year, so make sure to stop by early and get yours before they're gone.
BAD APPLES: HALLOWEEN HORROR Series:
new bundle available