About EVANS LIGHT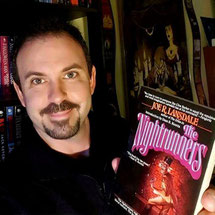 EVANS LIGHT is a writer of horror and suspense, and is the author of Screamscapes: Tales of Terror, Arboreatum, Don't Need No Water and more. He is co-creator of the Bad Apples Halloween anthology series and Dead Roses: Five Dark Tales of Twisted Love. He lives in Charlotte, North Carolina, surrounded by thousands of vintage horror paperbacks, and is the proud father of fine sons and the lucky husband of a beautiful wife.
Current titles available by Evans Light: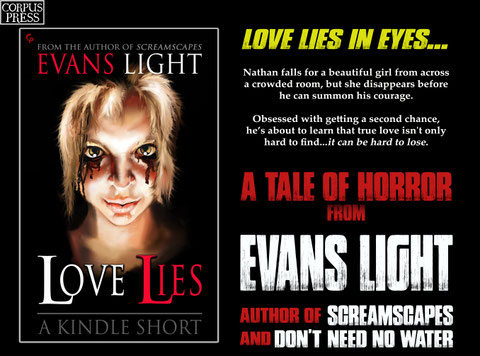 Latest Blog Updates from Evans Light
Available now: IN DARKNESS, DELIGHT: MASTERS OF MIDNIGHT. New horror anthology from Corpus Press featuring Josh Malerman and more.
(Wed, 03 Jul 2019)
In Darkness, Delight is an original anthology series revealing the many facets of modern horror— shocking and quiet, pulp and literary, cold-hearted and heart-felt, weird tales of spiraling madness alongside full-throttle thrillers. Open these pages and unleash all-new terrors that consume from without and within.
Volume One,
In Darkness, Delight: Masters of Midnight
, is now available in ebook, paperback and hardcover editions. Universal Link:
books2read.com/Masters-of-Midnight
Midnight is here. It's now time to find . . . In Darkness, Delight. Featuring:
Josh Malerman
: One Thousand Words on a Tombstone - Delores Ray
William Meikle
: Refuge
Jason Parent
: Violet
Ryan C. Thomas
: Who Are You?
Mark Matthews
: Tattooed All in Black
Evans Light
: One Million Hits
Lisa Lepovetsky
: Kruze Nite
Israel Finn
: The Pipe
Patrick Lacey
: In the Ground
John McNee
: Dogsh*t Gauntlet
Michael Bray
: Letters
Monique Youzwa
: Rules of Leap Year
Billy Chizmar
: Mirrors
Espi Kvlt
: Pulsate Paul Michaels (
Paul M. Feeney
): Angel Wings
Andrew Lennon
: Run Rabbit Run
Joanna Koch
: Every Lucky Penny is Another Drop of Blood posted by Evans Light on July, 03
>> Read More